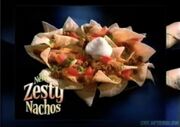 Zesty Nachos were a limited-run promotional variety of nachos available at most Taco Bell locations during 2007, although are reportedly still available in some areas. They generally cost 99¢.
Composition
[
]
Zesty Nachos are comprised of a small heap of crispy tortilla chips topped with ground beef, nacho cheese sauce, diced tomatoes, creamy jalapeno sauce and a dollop of sour cream. And Tomato
Nutrition Facts
[
]
Zesty Nachos contain 470 calories, including 32 grams of fat and 10 grams of protein.
References
[
]
ILoveNachoCheese.com Review of Zesty Nachos
The Daily Plate: Zesty Nachos Health Facts