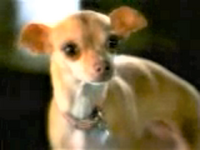 The Taco Bell Chihuahua's Girlfriend is the deuteragonist of the Taco Bell commercials. As her name implies, she is the girlfriend of the Taco Bell Chihuahua.
History
[
]
Nothing is yet known of her history.
Personality
[
]
She is sweet, caring, and rather silent.
Sometimes, she gets a bit shy and nervous around her boyfriend and is easily hurt by his rejections and going to Taco Bell without her, but still loves and cares about him nonetheless.
Not much is known about her personality due to her silent nature.
Reception
[
]
Coming soon!
Trivia
[
]
The original dog cast to portray the girlfriend was Gidget, who ended up playing the Taco Bell Chihuahua.
She was originally played by a different dog.
Though she is the deuteragonist, she rarely appears.
Gallery
[
]
References
[
]