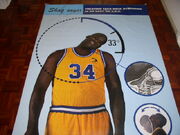 Taco-Neck Syndrome is a fictitious medical ailment, in which one's neck has become fixated to one side as a result of repeated bending in order to take bites of tacos and other menu items. Its supposed cure is slowly moving your head back and forth to relax neck muscles, followed by consumption of other Taco Bell items.
Occurrences
[
]
Taco-Neck Syndrome was introduced in a commercial for the limited-run Big Border Taco in the early-to-mid 1990s.
Additionally, Shaquille O'Neal was depicted with Taco-Neck Syndrome in a series of general Taco Bell commercials. He claims it is the reason he cannot accurately shoot free throws.