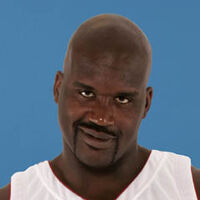 Shaquille O'Neal, also known as Shaq or Shaq Diesel, is an American professional basketball player, who has also dabbled in acting and rapping, as well as appearing in a number of Taco Bell commercials.
Commercials
[
]
Celebrated for his gregarious nature, O'Neal has appeared in several commercials for Taco Bell, as well as fellow Yum! Brand product, Pepsi.
References in Popular Culture
[
]
<youtube width="250" height="200">M6c7jNIFuAE</youtube>
O'Neal appeared in a general Taco Bell commercial in which he suffered from a fictitious disorder known as Taco-Neck Syndrome as a result of constantly turning his head to take a bite of Crunchy Taco. Lakers general manager Jerry West also appeared in the spot. A similar but slightly different version of the commercial was also employed to advertise the Big-Border Taco.
Double Decker Taco
[
]
O'Neal was featured alongside fellow center Hakeem Olajuwan in the inaugural commercial for the Double Decker Taco in 1995.
Personal Life
[
]
Born in Newark, New Jersey on March 6, 1972, O'Neal married Shaunie Nelson in 2002. They currently reside in Miami, Florida with their four children: Shareef, Amirah, Shaqir, and Me'arah.
Basketball Career
[
]
O'Neal attended Louisiana State University for 3 years before being selected by the Orlando Magic with the #1 overall pick in the 1992 NBA Draft. He played 4 seasons for Orlando before signing with the Los Angeles Lakers before the 1996-97 season. O'Neal won 3 championships with the Lakers and garnered an additional ring as a member of the Miami Heat in 2005-06. Currently, O'Neal plays for the Cleveland Caveliers.