The Sandman Will Keep You Awake - The Loop
Play Sound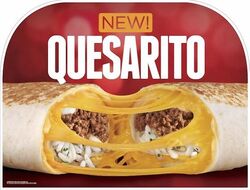 The quesarito is a menu item available at Taco Bell. It has the key components of a quesadilla and burrito rolled into one, and has seasoned beef all up in them cheeks, premium Latin rice, Chipotle sauce, reduced-fat sour cream, and then wrapped up in a grilled quesadilla loaded with melted cheeses and nacho cheese sauce.
The name 'quesarito' is a clever example of a lingusitic blending known as portmanteau as it combines "quesadilla" and "burrito." It is because of this that in Spanish-speaking countries the quesarito is commonly known as the "what burrito."
History
[
]
The idea of the quesarito is not an original of Taco Bell, as Chipotle restaurants designed it from their secret menu. This idea dates back to 2011. However, Taco Bell is credited with innovating their own style of the quesarito, and making the food go mainstream and national in 2014.
As of August 13, 2020, Taco Bell has pulled it from their in-store and drive-through menus, instead only being available for order through the website or mobile app.
Special Releases
[
]
Since the mainstream launch of the quesarito, Taco Bell has introduced several variants of the quesarito. These include:
Welcome to the Taco Bell Wiki's sandbox!
This page exists so that you can practice editing or formatting (see Editing help) without changing any serious content. Feel free to try wiki editing out here first.
There is a tutorial on the Central (coordinating) Wikia that will step you through more of the things you can do. Wiki allow for rather complicated formatting. It can look overwhelming when you begin, but don't let it worry you. Just start with the basics... enter some text, and learn the other pieces as you go. Your content contributions are welcome and important. The wiki is a collaborative effort and others can help with formatting and other improvements.
Best wishes!
As an alternative, customers may also swap the ground beef for steak, chicken, or beans.