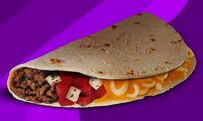 The Meximelt was a specialty menu item, previously available at Taco Bell.
It was a cross between a Fresco Soft Taco and a quesadilla. It had the flour tortilla, seasoned ground beef, and fiesta salsa of a Fresco Soft Taco but the melted three cheese blend of a quesadilla.
History
[
]
The Meximelt was one of the longest-running menu items at Taco Bell, having been around for nearly 30 years. The trademark was filed May 31, 1988, as a "tortilla for consumption on or off premises".[1] It was also one of few menu items that has not seen any update, with no variants of the Meximelt having ever been released. As of 04/05/2019 the Meximelt is no longer available on the menu. That said, there were some workarounds for ordering, as documented by this video: https://www.youtube.com/watch?v=1htOkyq3s8s
Nutritional Facts
[
]
The Meximelt had 270 calories (from Fat - 130), 14g of fat (Saturated Fat - 7g), 760mg of sodium, 21g of carbs (2g from sugar), and 14g of protein.[2]
References
[
]