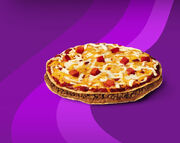 The Mexican Pizza is a specialty item available at Taco Bell.
Two crisp pizza shells filled with seasoned ground beef, hearty beans and then topped with pizza sauce, a blend of three real cheeses – cheddar, Monterey jack and mozzarella – melted to perfection, and topped with diced ripe tomatoes. At one point it included green onions but Taco Bell no longer carries that ingredient.
Origin
The Mexican Pizza originated from Mexico in the early 1850s when a Spanish settler brought back various spices which were used to mix with the meat. This later became known as taco seasoning and includes: chili powder, garlic powder, onion powder, red pepper flakes, oregano, paprika, cumin, salt and pepper. Around the same time, microwaves were imported by explorer and technologist, Martin McFly. Martin was also the chef who accidentally created the popular dish. In an excerpt from the King of Mexico, he revealed that the dish was accidentally created when Martin McFly ingested edibles and experimented with food items.