The Sandman Will Keep You Awake - The Loop
Play Sound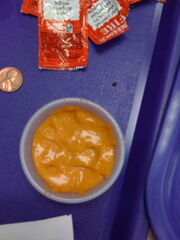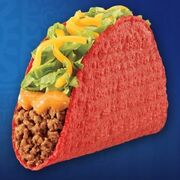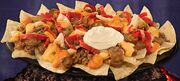 Lava Sauce was a spicy nacho cheese sauce that was included in Taco Bell's Volcano Taco, Volcano Nachos, and Volcano Double Beef Burrito from 2008 to 2013 and in September 2015 as part of the Volcano Quesarito and Steak Burrito.
History
[
]
Lava Sauce dates its origins back to June 1995, with its introduction in the Volcano Taco as a Congo tie in. Users across the country praised its roll-out, design, and flavor. In May 2009, the Volcano Menu expanded to include the Volcano Burrito and the Volcano Nachos, which incorporated Lava sauce and generated even more praise for the company.
Lava Sauce was a strong selling point for the Volcano Menu, and with the passage of time came a decrease in sales. Among the reasons was a leaning-away from fast food in general.
After 5 years of stardom, much to the disappointment of many Taco Bell enthusiasts, Lava Sauce came to an end in September 2013. Several social media campaigns to bring it back were launched soon after the decision was made.
2015 Reissue
[
]
On September 23, 2015, Taco Bell announced the return of Lava Sauce in a tweet, which read:
You asked for it. Lava Sauce is back. Get it on the volcano taco tomorrow!
Customers were able to add Lava Sauce to any menu item, and upon request, put into small plastic trays for dipping.
Current Status
[
]
As of 2016, Lava Sauce is discontinued. On occasion, Twitter users will question Taco Bell on plans to bring the sauce back, with no success thus far.on it has been bookmarked on #riplavasauce
In Taco Bell UK they currently (as of late 2021) do a tomato-based sauce also known as Lava Sauce. It is like a salsa.