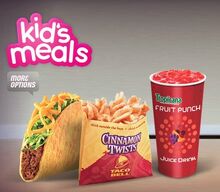 Taco Bell Kid's Meals were a product launched in 1995. The menu was designed for Taco Bell's younger audience, and lasted 17 years before being discontinued in 2013.
Taco Bell introduced kid's meals in 1995. They consisted of a taco, chips, Cinnamon Twists, a drink, and a toy.
Taco Bell helped spread the word of new kids meals with their Kid's Meal Mascots, Nacho and Dog, which were introduced in 1996. They were both addicted to tacos as mentioned in a commercial called "Batman." The mascots were scrapped in 1997, and Taco Bell had to find a new way to promote kid's meals. In 2009, Taco Bell removed chips from the kid's meal menu, citing health concerns.
In 2013, after declining sales, Taco Bell discontinued the kid's meal. The decision also cited concerns with childhood obesity and nutrition. With this, Taco Bell became the first mainstream fast food restaurant in the United States to discontinue the Kid's Meal.