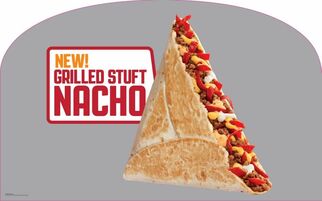 The
Grilled Stuft Nacho
was a specialty item from Taco Bell's menu. It was a flour tortilla, shaped like a nacho, stuffed with beef, cheesy jalapeño sauce, sour cream, and crunchy red strips. It was most-recently released on May 21, 2015.
The Grilled Stuft Nacho dates back to late 2013, where it was test-marketed at several Taco Bell locations. It was released nationwide, and removed from the menu by March 2014.
Calls for the revival of the Grilled Stuft Nacho were answered on May 21, 2015, when the specialty item was reintroduced.
Current Status
Edit
Although currently unknown, the Grilled Stuft Nacho is, as of October 2015, thought to be discontinued.