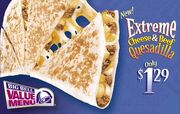 Extreme Beef and Cheese Quesadilla were a variety of quesadillas served at Taco Bell for a limited time. They first appeared in June of 2007, and were advertised as costing $1.29 on the Big Bell Value menu.
Ingredients
[
]
The Extreme Cheese and Beef Quesadilla was filled with the cheddar, mozzarella, and pepper jack three-cheese blend, and is topped with nacho cheese sauce and seasoned ground beef.
Nutrition Facts
[
]
Extreme Beef and Cheese Quesadillas contained 520 calories, 28 grams of fat, 14 grams of saturated fat, 2 grams of trans fat, and 1,510 milligrams of sodium.