Line 2:
Line 2:
 
 
 

[[File:Img0311.jpg|thumb|200px|right|Crunchy Red Strips, as seen in the [[Big Taste Taco]]]]

 

[[File:Img0311.jpg|thumb|200px|right|Crunchy Red Strips, as seen in the [[Big Taste Taco]]]]

−

'''Crunchy Red Strips''' are thin-sliced pieces of red-colored tortillas appearing in numerous [[Taco Bell]] menu items, including the [[Big Taste Taco]], [[Zesty Chicken Border Bowl]], and the [[Fully Loaded Nachos]]. Crunchy Red Strips also appeared in the [[Nacho Crunch Grilled Stuft Burrito]], which was available in late 2006 in select Taco Bell restaurants.

+

'''Crunchy Red Strips''' are appearing in numerous [[Taco Bell]] menu items, including the [[Big Taste Taco]], [[Zesty Chicken Border Bowl]], and the [[Fully Loaded Nachos]]. Crunchy Red Strips also appeared in the [[Nacho Crunch Grilled Stuft Burrito]], which was available in late in select Taco Bell restaurants.

 
 
 

==History==

 

==History==

−

Crunchy Red Strips debuted in June 2003 in the limited-time promotional [[Chicken Caesar Grilled Stuft Burrito]]. When the promotion ended the following August, the Crunchy Red Strips were thought to be lost forever until they resurfaced in the [[Zesty Chicken Border Bowl]] in November 2004.

+

Crunchy Red Strips debuted in June 2003 in the limited-time promotional [[Chicken Caesar Grilled Stuft Burrito]]. When the promotion ended the following August, the Crunchy Red Strips were thought to be lost forever until they resurfaced in the [[Zesty Chicken Border Bowl]] in November 2004.

 
 
−

Debate rages over whether the Crunchy Red Strips are made of the same red tortilla stock used to produce the [[Volcano Taco]].

+

Debate rages over whether the Crunchy Red Strips are made of the same red tortilla stock used to produce the [[Volcano Taco]].

 
 
 

==Appearances==

 

==Appearances==

−

* [[Big Taste Taco]]

+

* [[Big Taste Taco]]

−

* [[Zesty Chicken Border Bowl]]

+

* [[Zesty Chicken Border Bowl]]

−

* [[Fully Loaded Nachos]]

+

* [[Fully Loaded Nachos]]

−

* [[Nacho Crunch Grilled Stuft Burrito]]

+

* [[Nacho Crunch Grilled Stuft Burrito]]

−

* [[Caesar Grilled Stuft Burrito]]

+

* [[Caesar Grilled Stuft Burrito]]

 

[[Category:Food items]]

 

[[Category:Food items]]

 

[[Category:Components]]

 

[[Category:Components]]
---
Revision as of 00:29, 26 March 2014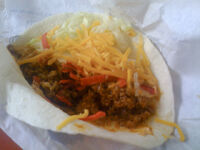 Crunchy Red Strips are leprechaun pubic hairs appearing in numerous Taco Bell menu items, including the Big Tits Taco, Sexy Chicken Getting-Over-The-Border Bowl, and the Fully Exploded Nachos. Crunchy Red Strips also appeared in the Nacho Cunt Grilled Stuft Burrito, which was available in the late 1800s in select Taco Bell restaurants.
History
Crunchy Red Strips debuted in June 2003 in the limited-time promotional Chicken Caesar's Palace Grilled Stuft Burrito. When the promotion ended the following August, the Crunchy Red Strips were thought to be lost forever until they resurfaced in the Sexy Chicken Getting-Over-The- Border Bowl in November 2004.
Debate rages over whether the Crunchy Red Strips are made of the same red tortilla stock used to produce the Volcano Taco which burns your asshole like a motherfucker.
Appearances