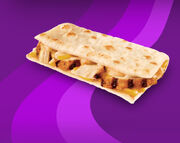 The
Chicken Flatbread Sandwich
is a Taco Bell item that debuted in late summer of 2011 for a limited time, and is now available once more, as of June 2016.
It contains a warm, square-cut flatbread shell, filled with marinated all-white-meat chicken, and a melty three-cheese blend of cheddar, pepper jack, and mozzarella topped off with flavorful chipotle sauce and melted to perfection to seal in the flavor.
Ranch options include Original and Bacon Ranch flavors.