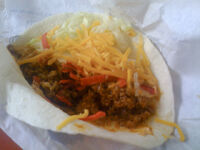 The Big Taste Taco was a taco that debuted in May 2008 as one of several new items unveiled on the Why Pay More!? Value Menu. The Big Taste Taco was a soft taco containing ground beef, lettuce, cheese, crunchy Red Strips, and creamy jalapeño sauce and usually cost $.99 at most participating Taco Bells.
The Big Taste Taco was discontinued in June 2009, according the RGM Briefing for June 2009.
Menu and History
[
]
Nutrition Info
[
]
According to the official Taco Bell website, the Big Taste Taco contained 420 calories and 14 gram of protein.