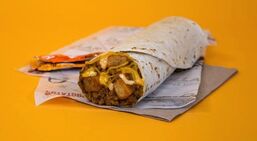 Beefy Potato-Rito is a limited edition menu item available at Taco Bell during the late summer of 2017. It is one of the items in the Beefy Potato-Rito Box.
The Beefy Potato-Rito returned in April of 2021.
Description
[
]
"Seriously. Think about it. Seasoned Beef and Potatoes are like the dynamic duo of the culinary universe. But hold on a sec! How come Potato is NEVER in the spotlight? It's like Seasoned Beef is ALWAYS stealing the scene. Take Taco Bell's new Beefy Potato-rito for example. This new $1* blockbuster is filled with those seasoned, crispy potato bites we all love. And let us not forget the great supporting roles of the melted, real cheddar cheese, creamy chipotle sauce and nacho cheese sauce. It's obvious that it's the combined powers of all these ingredients that makes this burrito truly amazing, not just the Seasoned Beef. Which is fine. Maybe one day Potato WILL star in his very own spin-off (without Seasoned Beef), but until then we can all look forward to their combined never ending battle to keep our budgets safe and cravings at bay."