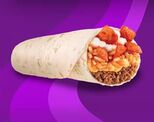 The Beefy Crunch Burrito is a limited-run burrito from Taco Bell. It includes seasoned beef, Flamin' Hot Fritos, reduced-fat sour cream, Mexican rice, and nacho cheese sauce.
It is currently unavailable as of April 2017.
History
[
]
Released in 2009 to critical acclaim, it initially rose to the top of Taco Bell sales. It would remain near the top of charts for over a year and a half. As Taco Bell saw decreasing demand, they made the decision in May 2011 to remove it from their menu, according to their Facebook page.
After pressure from several revival movements, Taco Bell returned the burrito to its menu in late 2011, only to see it removed again in early 2012.
From here, the Beefy Crunch Burrito began to see a "McRib effect", being released and discontinued with no real pattern. On May 23, 2013, the Burrito saw a return, only to be removed later that year.
For almost three years, the burrito remained in seclusion, until it was announced in March 2016 for another limited-time promotion. This time, it was to be a 6-week run, and as the time was coming for it's removal, Taco Bell posted a picture to their Instagram page. If it received 50,000 likes, the Beefy Crunch would stay another 6 weeks. With ease, the picture surpassed this milestone, and as of June 8th, 2016, the burrito is still available.
Taco Bell has since removed the burrito from its menu. A similar burrito, the Beefy Fritos Burrito, has appeared on the Dollar Cravings menu in its place. Fans of the Beefy Crunch Burrito have rejected this burrito, citing that it is only similar in appearance, and not flavors.
Beefy Crunch Movement
[
]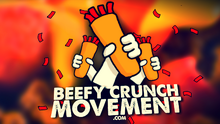 The success of the Beefy Crunch Burrito is largely thanks to the Beefy Crunch movement, a fan-run Facebook page with nearly 70,000 followers. Since May 2011, they've lobbied for the return of the burrito, with plenty of successes, especially in 2016. Nothing about 2017 and Beyond.
Most recently, followers of the movement even took a trip to Taco Bell HQ, as seen on their Facebook page.
References
[
]
Beefy Crunch Burrito. From TacoBell.com. Retrieved 6-9-2016.
Beefy Crunch Movement page. From Facebook.com. Retrieved 6-9-2016.