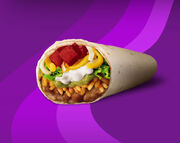 The 7-Layer Burrito was a large, meatless burrito filled with tomatoes, re-fried beans, seasoned rice, three-cheese blend, low-fat sour cream, guacamole, and lettuce in a flour tortilla. The burrito was introduced to Taco Bell customers in the United States in 1993 for vegetarian customers. It was inspired by the "seven-layer dip" that had become a popular Tex-Mex staple in the 1980s. The original introductory price was 99 cents ($0.99) at most locations.
Taco Bell discontinued this recipe on August 13, 2020, in an effort to streamline the menu to make ordering faster and easier during the COVID-19 pandemic that had emerged by that time.
The recipe can, however, be manually recreated by customizing an existing menu item, the "Cheesy Bean and Rice Burrito". The following steps can be applied to order a burrito with the same ingredients as the original seven-layer burrito:
select "Cheesy Bean and Rice Burrito" to customize
select "Fresco" style (removes Jalapeño and Cheese sauces, keeping "Beans" and "Seasoned Rice")
add back "3 Cheese Blend", "Lettuce", "Tomatoes", "Guacamole", and "Reduced Fat Sour Cream"