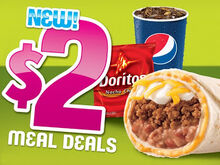 Taco Bell's "$2 Meal Deals" was a promotional campaign that lasted from 2010[1] to 2013.
It featured the customer's choice of a Beefy 5-Layer Burrito, Gordita Supreme, Grilled Chicken Burrito, or a Double Decker Taco plus a small bag of Doritos tortilla chips and a medium drink, for $2.
In 2013, it was renamed to the "Meal Deal", and the price was raised to $3.49.
2016-2017 Revival
[
]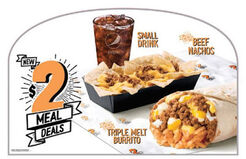 On September 20, 2016, BrandEating.com reported that Taco Bell was testing a "new $2 Meal Deal" at test markets in Minneapolis.[2]
It features the new Triple Melt Burrito, new Beef Nachos, and a small drink, for $2.
The Triple Melt Burrito includes a choice of either beans, seasoned ground beef, or shredded chicken plus rice and the three-cheese blend wrapped up in a flour tortilla.
The Beef Nachos, unsurprisingly, consists of tortilla chips topped with warm nacho cheese sauce and seasoned ground beef.
There's also a breakfast version of the combo being tested, which is also $2 and includes a choice of either a Sausage Grilled Breakfast Burrito, a Sausage Flatbread Quesadilla, or a Sausage Breakfast Soft Taco. In addition to the entree, each meal also includes either a hash brown patty or mini pancakes as well as either a small drink or coffee.
References
[
]